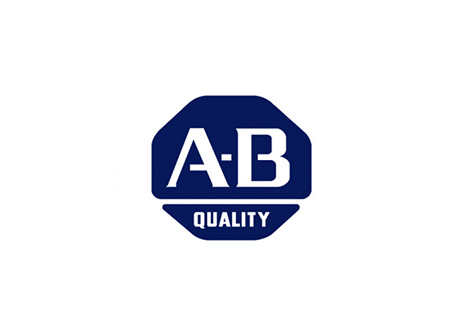 Rockwell Automation, helping manufacturers succeed and grow is what we do best — with industrial automation control and information solutions designed to give our customers a competitive advantage. From stand-alone, industrial components to enterprise-wide integrated systems, our solutions have proven themselves across a wide range of industries and in some of the most demanding manufacturing environment.




Programmable Logic Controller(PLC)
Programmable Automation Controller(PAC)
Drives
Human Machine Interface(HMI)
Control Products

---
Allen Bradley CompactLogix Controller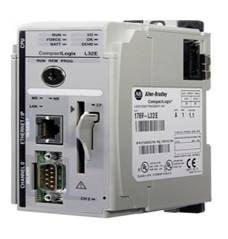 The CompactLogix platform brings together the benefits of the Logix platform common programming environment, common networks, common control engine in a small footprint with high performance.
Combined with Compact I/O, the CompactLogix platform is perfect for tackling smaller, machine-level control applications, with or without simple motion, with unprecedented power and scalability.
CompactLogix is ideal for systems that require standalone and system-connected control over EtherNet/IP, ControlNet, or DeviceNet networks.
---
Allen Bradley ControlLogix 1756 System Controller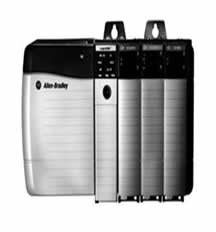 The ControlLogix controller provides a scalable controller solution that is capable of addressing a large amount of I/O points. The controller can be placed into any slot of a ControlLogix I/O chassis and multiple controllers can be installed in the same chassis. Multiple controllers in the same chassis communicate with each other over the backplane (just as controllers can communicate over networks) but operate independently.
---
Allen Bradley FlexLogix 1794System Controller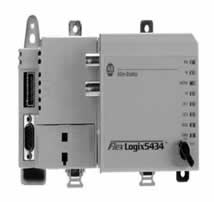 The CompactLogix platform brings together the benefits of the Logix FlexLogix controllers can monitor and control I/O across the 1794 backplane, as well as over I/O links. FlexLogix controllers can communicate with computers or other processors across RS-232-C (DF1/DH-485 protocol), DeviceNet, ControlNet, and EtherNet/IP networks. To provide communication for a FlexLogix controller, install the appropriate communication interface module into the controller.
---
Allen Bradley SoftLogix 5800 Controllers

The SoftLogix5800 controller is a "soft controller" based on the Logix platform. The SoftLogix controller takes the control functions normally found in a dedicated programmable controller, encapsulates them in software, and runs them on a commercial operating system. The multi-tasking operating system supports 32 configurable tasks that can be prioritized. One task can be continuous. The others can be periodic or event tasks. Each task can have as many as 100 programs, each with its own local data and logic, allowing virtual machines to operate independently within the same controller.
---
Allen Bradley Pico Controllers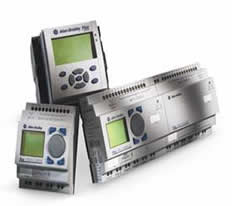 The Allen-Bradley Pico controller performs simple logic, timing, counting, and real-time clock operations. Splitting the difference between a timing relay and a low-end PLC, the Pico controller is ideal for relay replacement applications, simple control applications such as building and parking lot lighting, and applications in which cost is a primary issue. Designed with ease of use in mind, all programming and data adjustments can be done via the on-board keypad and LCD display, or with PicoSoft™ configuration software.
---
Allen Bradley Micrologix 1000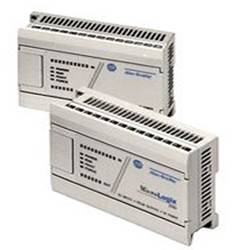 The MicroLogix 1000 family provides small, economical programmable controllers. They are available in configurations of 10 digital I/O (6 inputs and 4 outputs), 16 digital I/O (10 inputs and 6 outputs), 25 I/O (12 digital inputs, 4 analog inputs, 8 digital outputs, and 1 analog output), or 32 digital I/O (20 inputs and 12 outputs) in multiple electrical configurations of digital I/O. The I/O options and electrical configurations make them ideal for many applications.
---
Allen Bradley Micrologix 1200 Controller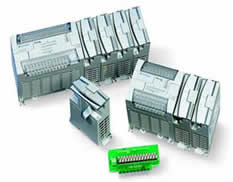 The CompactLogix platform brings together the benefits of the Logix The MicroLogix 1200/1762 system provides functionality between the MicroLogix 1000/1761 and MicroLogix 1500/1764 systems, using the proven MicroLogix and SLC family architecture. The 6K-word memory provides for a maximum program of 4K words and maximum data of 2K words with 100% data retention. An optional memory module provides program and data backup with program upload and download capability. The optional real-time clock enables time scheduling of control activities. The flash upgradeable operating system lets you upgrade system software.